Another weekend in Glasgow, altho I stayed home most of Saturday to finish my dress for the wedding on Thursday. Got it done AND my hat finally turned up this morning so it's all coming together!
Sean's parents had a BBQ on Saturday night so I dressed for the nice weather while trying to find something to cover the mega bruise - turns out a lot of the skirts I own are shorter than I thought! I picked this dress up on a charity shop £1 rail a while ago and swithered about keeping it - its a really great fit but the style is not very me, this may be the longest skirt I possess! Teamed it with an H&M blazer I bought years ago after being delighted at it only being £15, and its been worn pretty consistently ever since.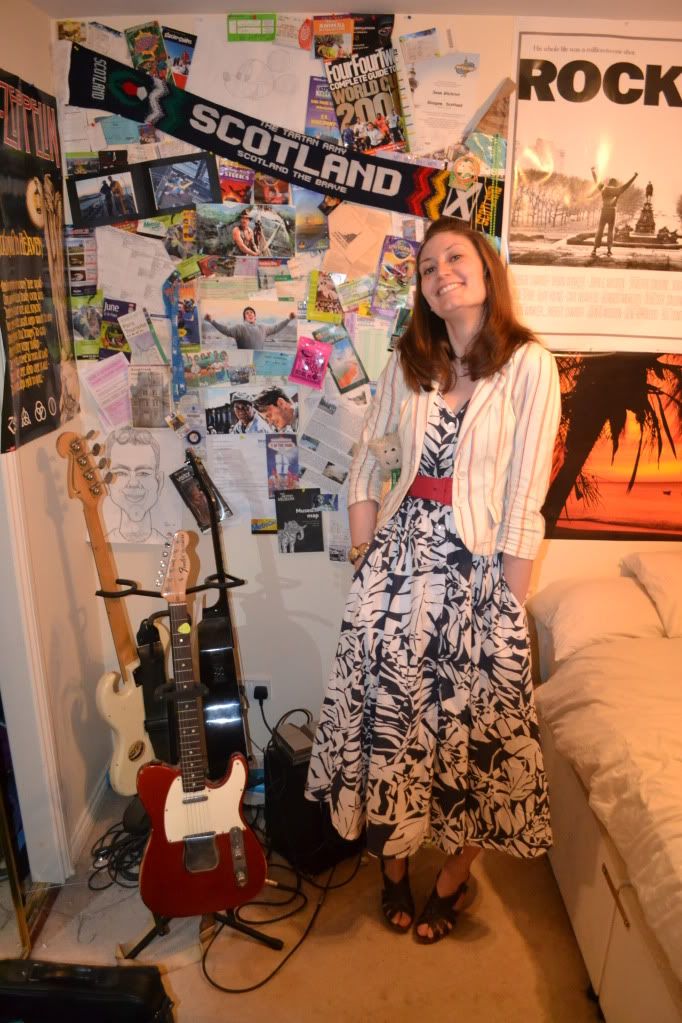 Blazer - H&M
Dress - charity shop
Belt - charity shop
Heels - New Look sale
Bought this sunhat last summer from Matalan and it's still not been worn - by the time I reached Glasgow the clouds had rolled in! My fave H&M sunglasses also proved useless, grr...
Here's a sneak peek at part of my wedding attire - the petticoat! Ridiculously easy to make but took bloody ages - basically I took an old slip and gathered up lengths of netting and sewed it on at various intervals - I started at the bottom and worked my way up, but I think it would have worked top to bottom too. Cant wait to wear it - I was swishing about in the dress for ages on Saturday!
(its just taken me ages to do this cause once again Blogger has changed things and I now cant seem to move pics about...faffy...)
:)