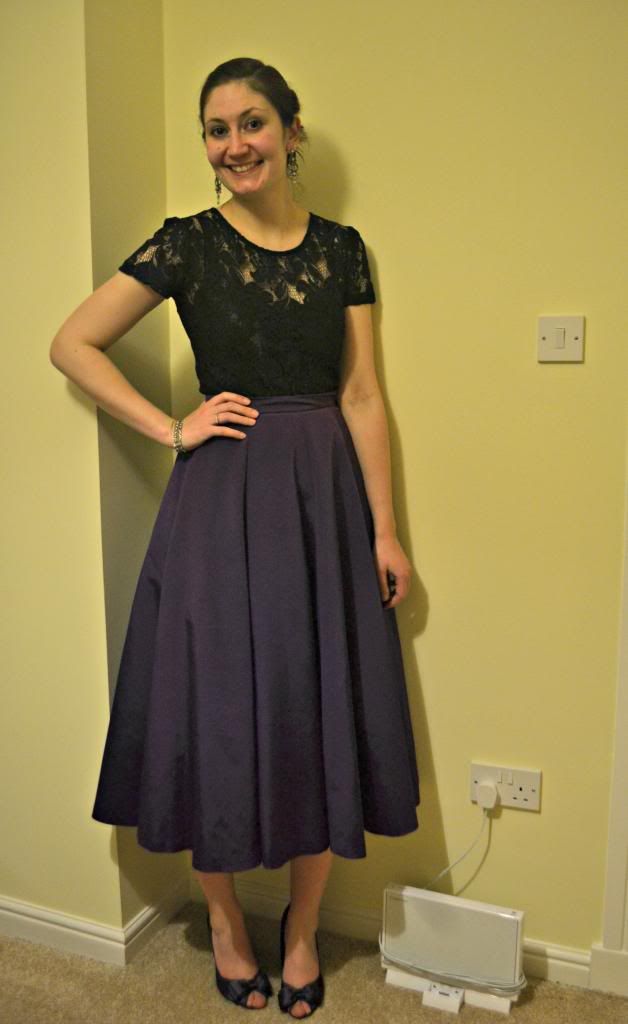 Top - Red Herring @ Debenhams (here)
Skirt - charity shop
Shoes - Debenhams
Sunday was our Christmas night out at work. We were at the same venue as last year, but the food was surprisingly better and the music unsurprisingly worse. I somehow didn't get drunk, so didn't come home looking too worse for wear... Good thing, since I decided to take a pic of my outfit for you! I slightly loved this look, I may repeat it again for New Years ;) I found this 80s Jaegar skirt in a charity shop aaaages ago, and while it started off too small, a quick shuffle of the zip on my sewing machine made it wearable, yay! I also wore a petticoat under it, for an added twirl factor of course.
I'm still not sure how my hair stayed up... I pleated one side, pulled it round the back then worked a pleat down the other side, then twisted it round and used those spin pins to keep it in place. If that makes sense. I made the clip out of a Christmassy bow tie last year, think I'm gonna wear it as much as possible this month!
Here's some of the highlights of the night, taken by Leanne (top left). We had a lot of fun with a plastic moustache we found in a cracker, then danced a lot to random retro songs and Gangnam Style... well only one of did, but she won a prize for it! Roll on next year...
:)